myblog -september '11


-click here to read a short bio of insaner-



current blog | archive:
2001 2002 2003 2004 2005 2006 2007 2008 2009 2010 2011 2012 2013

---
Friday, September 30, 2011
[16:51:30] #
and did i mention my computer is sputtering its last few breaths?? its been quite erratic lately, and this last week is refusing to boot.. ive tried all sorts of things to bring it back to life.. but nothing.. my working hypothesis at this moment is that the motherboard has blown a capacitor or two.. *sigh* time for new computer.. i doubt i will want to invest the time and effort to fix this one.. ugh.. technology
[16:47:32] #
just called a number with the intent of leaving a message.. the outgoing message was, no joke, 8 minutes long and sounded like what must be a charismatic sermon, in some southeast asian language.. i did hear a lot of "yesucristi"s hence my assumption.. so i try to leave a message, and i got about 45 seconds in before it said "mailbox full".. seriously???
Wednesday, September 28, 2011
[5:28:04] #
kp index of 8 on monday.. no idea what the auroral oval looked like though.. me sad.. (and ive finally officially added the auroras tag now.. i guess about time too)
Tuesday, September 27, 2011
[16:06:32] #
repost from
john piper
How trembling leaders pray. "Let not those who hope in you be put to shame through me, O Lord." (Psalm 69:6)
ps, lack of posts due to the fact that i am running in the election.. last week we went to see the whales.. my bucketlist items are dropping like flies! (like dead flies)
Thursday, September 22, 2011
[2:04:43] #
random (well not so random i guess) fact of the day:
Only two adult citizens in Canada cannot vote: the Chief Electoral Officer, and the Deputy Chief Electoral Officer.
Wednesday, September 21, 2011
[21:54:36] #
how to change the order of your thunderbird accounts listing (i hope i didnt already post this)
go to the menu: Edit > Preferences > Tab: Advanced > Tab : General > Config editor
click on "I'll be careful, I promise!"
search for "mail.accountmanager.accounts"
edit the variable and change your order here

you will have to deduce what the account name ("account2", "account3".. etc) each account has, but that should be pretty easy..

the changes will take effect once you restart thunderbird
source
Wednesday, September 14, 2011
[2:25:58] #
this is nuts:
42.zip

Click here to download 42.zip(42.374 bytes zipped)


The file contains 16 zipped files, which again contains 16 zipped files, which again contains 16 zipped files, which again contains 16 zipped, which again contains 16 zipped files, which contain 1 file, with the size of 4.3GB.

So, if you extract all files, you will most likely run out of space :-)


16 x 4294967295       = 68.719.476.720 (68GB)
16 x 68719476720      = 1.099.511.627.520 (1TB)
16 x 1099511627520    = 17.592.186.040.320 (17TB)
16 x 17592186040320   = 281.474.976.645.120 (281TB)
16 x 281474976645120  = 4.503.599.626.321.920 (4,5PB)

isnt that nuts?? 4.5 petabytes in 42 bytes zipped!! to put this in perspective, if you have a terabyte drive (which is now the high end of desktops, which means you probaby have something around a fourth of that) then you would need more than 4,000 of those drives to fit this file fully uncompressed!!!
thanks to
bahb
for the link
Monday, September 12, 2011
[0:30:46] #
hey, so, apparently, today is the
harvest moon
, which is the closest full moon to the northern autumnal equinox (my
nemesis
dozed off at some point during that sentence, i know it.. apparently the extra bright moon was used to gather the autumn crops.
source
glad i
finally
know.. no seriously..
my wife
used to play a game called "harvest moon" and i always wondered what kind of name that was.. now i know
Saturday, September 10, 2011
[4:19:26] #
kp=5, what am i doing
here
?? (check the
current kp index and auroral oval
here)
wait a minute!!!!
THERES A HUGE AURORA STORM GOING ON RIGHT NOW!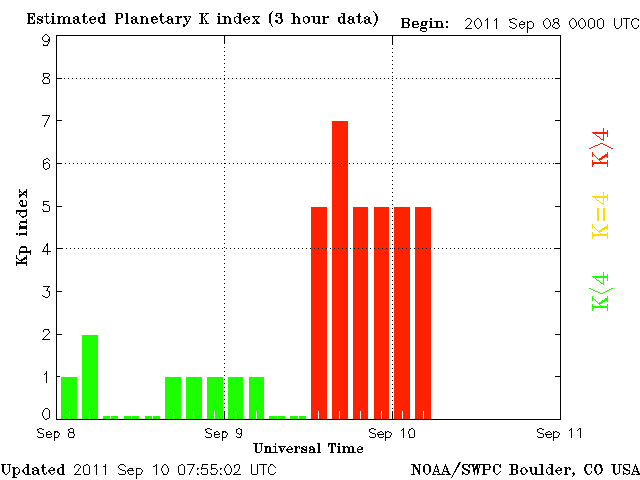 oh my goodness im going to go crazy!! what am i doing here?? why am i not skywatching right now?? aghh!!!! people go outside and try to see them!!
Friday, September 9, 2011
[23:06:30] #
heres a useful tip for you people as frustrated as i am by this:

when you edit your /etc/php.ini and the values arent being applied, you might need to restart your httpd (apache) after that, the values should have applied now. yeah, dumb, but oh well, live and learn.
[20:06:55] #
i'm speechless.
Wretched - you cry baby!


+ view video

When they had eaten breakfast, Jesus asked Simon Peter, "Simon, son of John, do you love Me more than these?" "Yes, Lord," he said to Him, "You know that I love You." "Feed My lambs," He told him.

John 21:15
Thursday, September 8, 2011
[18:23:13] #
seems i hadnt posted this yet:

10 years in the Lord!! thank you God for killing that sinner i used to be, and raising up that saint for your glory! may i be daily conformed to the image of your Son, and may i beam the love for my enemies that you showed for me, your hated enemy, whom you loved first and saved. and may i NEVER think that i know all there is to know about you!
[18:13:37] #
i have coined a new term:
reformed arminianism:

the belief that affirming reformed doctrines is what makes you "saved"
[13:54:30] #
awesome quote
"After giving a brief survey of these doctrines of sovereign grace, I asked for questions from the class. One lady, in particular , was quite troubled. She said, 'This is the most awful thing I've ever heard! You make it sound as if God is intentionally turning away men and women who would be saved, receiving only the elect.' I answered her in this vein: 'You misunderstand the situation. You're visualizing that God is standing at the door of heaven, and men are thronging to get in the door, and God is saying to various ones, 'Yes, you may come, but not you,... and you, but not you, etc.' The situation is hardly this. Rather, God stands at the door of heaven with His arms outstretched, inviting all to come. Yet all men without exception are running in the opposite direction towards hell as hard as they can go. So God, in election, graciously reaches out and stops this one, and that one, and this one over here, and that one over there, and effectually draws them to Himself by changing their hearts, making them willing to come. Election keeps no one out of heaven who would otherwise have been there, but it keeps a whole multitude of sinners out of hell who otherwise would have been there. Were it not for election, heaven would be an empty place, and hell would be bursting at the seams. That kind of response, grounded as I believe that it is in Scriptural truth, does put a different complexion on things, doesn't it? If you perish in hell, blame yourself, as it is entirely your fault. But if you should make it to heaven, credit God, for that is entirely His work! To Him alone belong all praise and glory, for salvation is all of grace, from start to finish."

-Mark Webb
Sunday, September 4, 2011
[2:29:11] #
"The greatest gift a man can give his children is to love their mother and keep his covenant with her."

-Voddie Baucham Jr.
i have a feeling ill be quoting him a lot more often.
Friday, September 2, 2011
[18:18:23] #
just a couple of things so i can close this tab, the other day we went swimming to the beach (yaaay!) and this guy with the coolest hair color (it was like fire orange) walked past us, and i thought, "man, what a cool hair color.. " a while later as i went to the water, i waded past him, and i heard him say something about a beard.. i thought he was talking to his friend.. and then i heard it again, this time more clearly "im jealous of your beard!" at the third time i figured this might have something to do with me.. so i said "youre jealous of my beard?" "yeah!" haha.. so i said "im jealous of your hair! thats a good color!" "yeah, yeah.." haha.. it was pretty funny.

second thing worthy of note.. ugh, gag reflex kicking in.. so our new church peoples like to hang out after church (after the second service mostly) by going out to a restaurant or fast food place.. and usually the closest is mcdonalds (yeah, usually.. heh, ill give you a moment to catch why thats funny) but as you might know, i find the food at mcdonalds repulsive.. just completely gross, my last mcdonalds burger being a quarter pounder with cheese back 15 years ago now. theres a reason why i never went back. but since they always go, and i enjoy their company, i sit there and drink my $1 free refill drink.. usually ice tea, and when my lovely wife has had her fill, she goes for the barq's (cuz barq's has bite) since she doesnt like root beer. but this time, my head was hurting a bit because i needed to put some bread and meat into mah belly. so i yielded and said "hey, that angus burger cant be that bad.. right?" well, sad to say, i was wrong. very veeeeery wrong. this burger was the most disgusting thing i have ever eaten that wasnt meant to be disgusting on purpose.. the meat was dry (how is that even possible??) and tasted slightly raw and rancid.. there goes that gag reflex again... it was so gross, even my wife agreed.. the only way i was able ultimately finish it (with her help) was by dousing it with vinegar and ketchup.. oh man, ugh, it was so gross.. my nemesis arrived late (she had other, better things to be doing) with her satellite (who by the way is super awesome, even though she doesnt read the blog, but eventually i shall steal her away.. oh wait, ive already mentioned that, havent i?) in any case, they saw the end of the ordeal.. it was pretty painful. next time, im bringing sandwiches.. because that was just too terrible. i hope they didnt mind my constant complaining.

on a more positive note, i had a very nice conversation with the best dressed guy in the whole church (whom i sometimes call either k-dawg.. but i havent really decided what to codename him for the blog) on holiness.. it was pretty good. ok bye
[17:19:29] #
next good meteor shower coming up?
GIACOBINIDS (also Draconids)

Peak Date: Oct. 8
General Duration: Oct. 6 – Oct. 10
Hourly Rate: 200
Radiant (point of origin): In the Northern Sky near the Constellation Draco
anyone up for some skywatching on that day? thats 200 meteors per hour!!
ps, the
space watch
section is officially up, with
auroras, kp index
and the list of
annual meteor showers
go check it out!
[4:22:21] #
i like piper, have i mentioned that before?
No, Mr. President. Killing Is Killing No Matter What We Call It.




+ view video




It's a magnificent thing: The only newly-originating life in the universe that comes in the image of God is Man. The only newly-originating life in the universe that lasts forever is Man.

This is an awesome thing.

And, as everyone knows, that reverence is not shared by our new President, over whom we have rejoiced.

He is trapped and blind in a culture of deceit. On the 36th anniversary of Roe v. Wade, he released this statement,

We are reminded that this decision not only protects women's health and reproductive freedom, but stands for a broader principle: that government should not intrude on our most private family matters.

To which I say:

No, Mr. President, you are not protecting women; you are authorizing the destruction of 500,000 little women every year.
No, Mr. President, you are not protecting reproductive freedom; you are authorizing the destruction of freedom for one million little human beings every year.
No, Mr. President, killing our children is killing our children no matter how many times you call it a private family matter. You may say it is a private family matter over and over and over, and still they are dead. And we killed them. And you, would have it remain legal.

Mr. President, some of us wept for joy at your inauguration. And we pledge that we will pray for you. We have hope in our sovereign God.
[4:00:43] #
and heres for some good news:
Survival Story: Boy Survives After 25 Minutes Underwater, Dramatic Photos Reveal


+ view video




'TRULY A MIRACLE'
12-year-old boy alive and recovering after drowning in ocean




In what some describe as a flat-out miracle, a 12-year-old boy who drowned in the surf off Cranberry beach approach Friday began speaking in a Portland hospital Monday, amazing his doctors.

Dale Ostrander was at the beach enjoying a picturesque day trip with the Bethel Baptist Church group from Spanaway. The surf was violently agitated and chaos was about to erupt as Dale and another boy got into deadly danger. They are alive today thanks to instantaneous heroism by a visiting girl, her dad and surf-rescue volunteers.

"They just went for a day and were just getting in ankle- and knee-deep … it wasn't a swimming activity — but he got sucked in," said Denise Minge, daughter-in-law of Bethel Baptist Pastor Terry Minge.

Less than an hour later, as nearly two dozen other church members prayed, cried and hugged one another on the beach, Dale was in a speeding ambulance being rushed to Ocean Beach Hospital. He wasn't breathing, had no pulse and was unresponsive for as much as 20 to 30 minutes. He was, by many definitions, dead.



[...]

PCFD1 Fire Chief Brundage said his department was dispatched at 3:22 p.m., for a report of two swimmers in distress just north of the approach. The first responding unit arrived about six minutes later to find Shanon and Nicole Kissel and the other boy on shore with one swimmer still unaccounted for. South Pacific County Technical Rescue Team (SPCTR) responded with and deployed two watercraft with rescue swimmers.

"The story I was told was that there was a bystander and his daughter who were boogie boarding and heard the two kids screaming for help," Brundage said Tuesday. "They weren't very far out, about 100 yards offshore at the most, still in the surf zone. But [the kids] were caught in a rip and were panicking, and he understood how to manage it, swim sideways, and get them to shore."

According to the Pacific County Sheriff's Office, Shanon Kissel was "instrumental in saving the swimmers."

The sheriff's office, Long Beach Fire Department, Washington State Parks, SPCTR, and the Coast Guard, which happened to be conducting drills less than a mile offshore, also responded to assist with the effort.

The Coast Guard vessel dropped buoys to determine which direction the water was flowing. At least a dozen responders stood atop various vehicles — including the Long Beach Volunteer Fire Department's brush truck — hoping to spot Ostrander through their binoculars.

On the sand nearby were about 20 kids who had gathered into groups and clutching each other in prayer.

Though the outdoor temperature was a comfortable 65 degrees that afternoon, Doug Knutzen, who responded with SPCTR, presumed that the water temperature was in the mid-50 degree range. Water that temperature can lead to death from hypothermia within an hour. Hypothermia, which is a loss of core body temperature, can quickly result in confusion and loss of coordination, which lead to drowning.

Boy is found at last

Within about 10 minutes, Ostrander was located in the surf zone by SPCTR volunteers aboard a WaveRunner.

According to a report released by SPCTR, volunteer Eduardo Mendez "spotted the boy partially submerged in the surf, deployed his rescue swimmer Will Green and together they made the pick up and returned the unconscious child to the beach."

They transferred the unconscious boy to medical personnel on-shore. For bystanders, the scene was grim, with no visible signs of movement or consciousness. But paramedics, kneeling in the sand, continued to work on reviving him for about another 10 minutes. Amid resuscitation efforts, Ostrander was loaded into an ambulance and transported to Ocean Beach Hospital with life-threatening conditions.

Medical responders were determined to not give up on him.

"It's up to paramedic discretion, not every situation is exactly the same, they have to take all the pieces of the scene and of what happened to determine the extent of resuscitation efforts," explained Brundage, who was the incident commander at the scene. "It's up to the paramedic to make the decision when to stop efforts, and in that criteria or that protocol, there is a point where the paramedic can choose to terminate efforts, but in this case, the paramedic chose to continue resuscitation efforts to the hospital. … I talked to my medic from that day and he said they didn't get any pulse in the back of the rig; they discovered a pulse after they arrived at the hospital."

Ostrander was later flown to Portland Children's Hospital. (The other people involved in the emergency refused treatment and transport by medical personnel.)

Kept in induced coma

Since his hospitalization, a prayer blog has been set up on behalf of the boy and his family at http://prayersfordale.blogspot.com. Blog entries on Sunday stated, "When he was found, he was unconscious and not breathing. Emergency personnel performed CPR on him and got a heartbeat and later got him to breathe on his own." At Portland Children's Hospital, the boy was in a drug-induced coma while doctors "kept his body temperature down to help with the brain swelling."

By Monday, Ostrander had opened his eyes.

"The doctors just removed Dale's breathing tube and he is now breathing on his own," the blog reported. "Also, because of possible damage to the brain they were unsure if he would be able to speak. Minutes after the tube was removed, the doctors told him to cough. Not only did Dale talk back to the doctors, he responded in a full sentence saying, 'I don't have to.' Dale continues to get better by the minute and the doctors are more and more amazed! God is good!"

"Believe me, people are praying all over the states and all over the world," said Denise Minge, who is maintaining the family's blog. "God is truly working a miracle! I personally think he's showing off how powerful he is and proving that he is in control."
pretty awesome huh?
[3:18:22] #
lets start the month with stupid news:
PETA porn plan sparks furor

The fur is flying over plans by the People for the Ethical Treatment for Animals to run a porn site in the group's fight against animal abuse.

[website] will have sexually explicit content and address animal rights issues.

Combining porn and images of abused animals is "repulsive," insisted Gwen Landolt with Real Women of Canada.
(yeah,
thats
the repulsive part)
"This exploits women and is an abuse of people. They have lost all sense of balance. Their extremism has goes beyond common sense. They are worried about animals but they don't care about the value of women," Landolt said.

"Combining pornography and animal abuse together is disturbing."
it
is
.. but thats the moral direction our society is taking anyways.. all sexual perversions are being allowed.. its a big free-for-all, where soon it will all just be normal and allowed, and not just that, but "protected"
The group often attracts attention to its cause by sending out female protesters who are naked or nearly nude. Porn stars like Jenna Jameson and Ron Jeremy have already posed naked for PETA campaigns.

"We are working on a XXX site and the content will be graphic — an off-limits video that people won't expect. This will grab people's attention and start a discussion to take action," said PETA spokesman Ashley Burns.
nothing says "lets protect the animals" like sexual immorality
thanks to
fisher
for the link
Thursday, September 1, 2011
[18:58:18] #
yes!!! finally!! candy corn (one of my favorite types of candy, if not my very favorite) is now for sale!! weee!
---

-click here to read a short bio of insaner-



current blog | archive:
2001 2002 2003 2004 2005 2006 2007 2008 2009 2010 2011 2012 2013